Upholstery Cleaning Services in Mission Bend, TX
Furniture takes in a lot, from kids and pets to family friends. They trap in dirt, allergens, and dust, which can pose a threat to your health. Unfortunately, you can't avoid stains and water spills. Therefore, the best thing to do is to seek the services of an upholstery cleaning service provider.
A professional upholstery cleaning service provider will help to extend the life of your sofa. They clean your furniture using gentle chemicals to remove dirt without ruining them. They use the best method that can't damage your fragile upholstery such as leather.
A cleaning service ensures that your furniture is dry after the process. Using excess water can damage your upholstery because it encourages the growth of mold and bacteria. A technician uses steam, enabling your upholstery to dry within a few hours. Using steam prevents shrinking of fabric and color bleeding.
Protect your family from allergens by contacting a professional cleaning service provider. Allergens can cause severe respiratory diseases such as asthma. Bacteria caused by food spills can be dangerous to your pet's skin.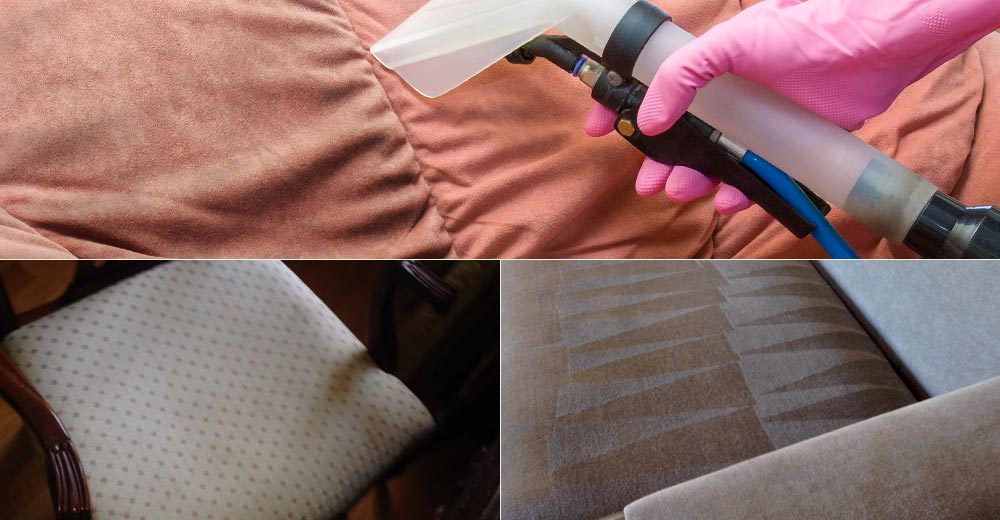 Why Choose Us?
Some upholstery cleaners have harsh chemicals that can be dangerous to your family and pets. We use eco-friendly and green-certified solutions that will leave your furniture clean and healthy. Our technicians are trained to clean any furniture that you may have. They will deep clean your valuable couch without ruining it. We respond to all customers as soon as possible. The satisfaction of our clients is our priority. We also have liability insurance, that covers any damage (damages are very rare) that may arise. We have been in the cleaning industry for a long time, and we understand what our clients want.
We provide the following services:
Remove Stains: We remove all the dirt and stains that may be trapped on your upholstery. We also apply a protector that will resist potential stains. It will leave your furniture looking good for a long time.
Sanitize and Deodorize: Your furniture traps allergens and airborne bacteria. Upholstery must be cleaned thoroughly to remove these harmful substances. We help improve your indoor air quality by sanitizing and deodorizing your upholstery. Note that some deodorizers can cover up the odors without removing them. We use high-quality deodorizers that remove the odors, refreshing your furniture, and the entire house.
We use hot steam instead of water. Steam is effective in extracting and flushing out grimy dirt. Also, the furniture cleaned using steam dries fast.
Types of Upholstery We Clean
Different types of upholstery require different cleaning methods. For instance, you can't clean leather the same way that you clean fabric. The members of our team are equipped with the knowledge to clean different types of upholstery. We use cleansers that are safe for all types of upholstery. You won't need to worry about your couch being damaged.
We clean different types of upholstery leather, leatherettes, cotton, and velvet and suede upholstery. We also clean all types of upholstered furniture, including beds, sofas, chairs, mattresses, and more. Remember, furniture can be costly, and you need to maintain it properly. Replacing damaged furniture can strain your finances.
Carpet Cleaning
The first thing a visitor sees when he/she enters your house is the carpet. A dirty carpet will give a wrong first impression. Therefore it's crucial that you have your carpet cleaned by professional cleaners. Some people think that vacuuming their carpets is enough. However, vacuuming does not remove stubborn stain spots and dirt. Therefore, it's essential to hire professional carpet cleaners to do the job. If you decide to clean your carpets yourself, we suggest you use this hint to avoid damage to your property.
Let us take care of your upholstery cleaning needs. We provide cleaning services in Mission Bend Estates, Pheasant Trace Village, West Beechnut Plaza, Great Oaks, and Altamira. We will not only clean your furniture and carpets but also give you advice on how to take care of your upholstery until the next cleaning.